[Single] Ciana Pelekai – Bluff @cianapelekai10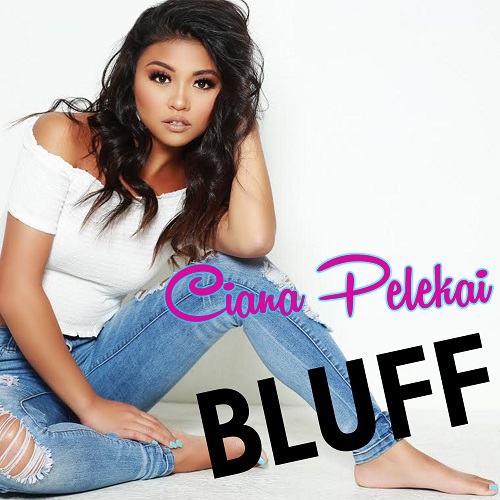 Jon-Tonz Music Group artist Ciana Pelekai releases her long anticipated single "Bluff". Ciana Pelekai is an American singer, born and raised in Hawaii who showed remarkable potential from a very early age. She has been on America's Got Talent twice, which led her to the quarterfinals in New York City, where she got to perform on the Radio City Music Hall stage. That is just the tip of the iceberg. Cianawas born for the stage. She has been a great role model to younger children. Despite all her accomplishments and achievements, she continues to stay humble. Children gravitate towards her sweet and comforting energy. She aims to be in the spotlight, but knows how to share a stage. She is an astoundingly natural performer, with a rare gift for the most difficult vocal rifts and having the natural ear for harmony. Service to others is of the utmost importance to her. Whether she is serving food to homeless children, collecting money for foster families or for the special Olympics, Volunteer work is what she cherishes the most. She has even coached young girls who cannot afford pageantry coaching and taught them confidence, poise, and elegance along with making sure they understood how special and amazing they were. Having been a victim of bullying in her early years, she hopes to encourage and inspire children to love the person in the mirror. Ciana has already developed quite a fan base with her raw, youthful, soul / pop voice. Inspired by great artists such as the late Etta James, Beyonce and Bruno Mars, Ciana is a triple threat powerhouse that is ready to make her mark in the world.
Stream on Soundcloud
https://soundcloud.com/user-367296721/cianapelekaibluff
Stay Connected w/ Ciana Pelekai
https://twitter.com/cianapelekai10
https://www.instagram.com/officiallyciana/
https://www.facebook.com/CianaKPelekai
https://soundcloud.com/user-367296721
https://agt.fandom.com/wiki/Ciana_Pelekai
https://www.youtube.com/channel/UCUlnjuo9EIPFy8K-V-IOODg
(Video) Young M.A "Quarantine Party" @YoungMAMusic
Who's Down for a Quarantine Party? Young M.A and the homies threw a Quarantine Party and it was stupid lit! Check out the New Visual!
Tianis Rose – In My Head (Video)
Tianis Rose releases visuals for her single "In My Head." Through intricate wordplay, Rose expresses everything racing around in her mind. From thoughts of giving up, not being enough, and doing too much in her past. She depicts a battle between the heart and mind and drops countless jewels on how to get through. Watch "In My Head" below.